Digital Surveillance Solutions
Videocom's security camera installations are done by professional installers that have an extensive expertise in the business of security. Our selection of security cameras is based on several factors. A site survey is necessary to determine where exactly each camera is to be installed and what type of camera is the most appropriate for that location.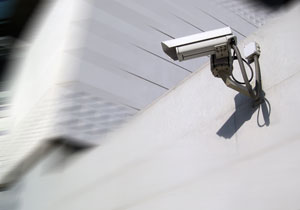 With the customer feed regarding his needs of coverage - field of view - and our vast expertise, we can determine the most appropriate type of camera to be installed and its location. We can determine if the security camera is meant to be a deterrent, to be obvious and send the message " you're being watched and recorded". These type of cameras makes people aware and can sometimes prevent a criminal activity. The more discrete cameras, semi discrete dome type – can be installed in restaurants, where people (customers) may not like to know they're on camera. Hidden cameras are meant more for catching rather than preventing the wrong doing. Most of the time business owners would like cameras that prevent the wrong doing, then to catch it. Catching means sometimes firing someone and firing leads to hiring new staff, this may become very stressful and time consuming… so, they rationalize, "I better prevent then catch but at the same time I don't want the cameras to be too obvious to the customers."
A CCTV system can be comprised of outdoor cameras (weather resistant) or indoor cameras, vandal resistant (heavy duty) or just plastic cover cameras. They come in different shapes and colors to accommodate the most demanding needs – sometimes to blend in with the environment sometimes to be obvious. Today, most of the CCTV security cameras are digital color with infra red LEDs (color by day, black and white IR by night)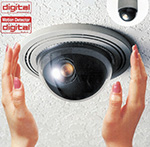 or low lux (.00) sensitivity especially in places with low light condition like for example bars. The most common security cameras are dome cameras (used in well illuminated places with low ceilings) or bullet cameras IR (used where the light condition is low or can become low), regular standard cameras (box camera) that is coming without the lens (the lens is mounted at the installation time, on camera based on need determination - the lens can be regular fixed 3.6 mm lens (most common) to cover about 77 degree field of view or fixed 2.6 mm lens fish eye – a wide view type of lens that is usually used in elevators or corners to cover about 90 degrees or auto-iris (the camera iris is like human eye it will change automatically based on light intensity – it will open wide if the light is low or close if the light is bright, vari-focal lens 3.5-8 mm – manually can adjust the focal of the lens in between a range. The PTZ cameras (pan, tilt and zoom) are high end type of cameras mostly used in casinos, malls, parking lots – to zoom into a license plate if necessary, upscale type of buildings and organizations where security has to be very tight and a clear identification is very important. Also, DSP cameras ( Digital Signal Processing ) are high end cameras due to the fact the image is digitally processed for a better quality image inside the camera before the image is sent to the recorder. A wireless security camera is used mostly when cameras are mounted outside and when you have line-of-site and the video signal doesn't get blocked by concrete or solid walls with large metal beans. Also, wireless security systems are installed where you need to view across the street but can't run wires over or under public areas.
Protecting People and Property using State-of-the-Art Digital Recorders
The CCTV security system (closed circuit TV) is an excellent tool not only for security but also for managing a small or medium business or even a large organization. CCTV security systems can view if the employees are doing their job right and how they are treating the customers. The digital security camera system can be operated simply by small business owners or in large organizations by security guards operators.
The digital video recorders DVRs PC BASED can play back instantly by time and date – using the click of a mouse (most popular) or DVR stand alone based on pushing buttons or using a remote control. By using a DVR PC based you can search an event that took place up to seconds ago or months ago, by a click of a mouse, Based on the capacity of the Hard Disk Drive(s). You can burn the events on a HDD, CD, CD-RW, DVD, Flash Card or Memory Stick depending on the architecture of the digital video recorder. 
The (digital video recorder) DVR security system has different HDD capacity of memory and frames per second on live display and playback. DVRs can use from 30 fps to 480 fps and now even 960 fps (for 32 channels DVRs). The DVR Security Systems installation can use stand alone one channel DVR or networking LAN / WAN PC-BASED. The DVR CCTV camera system can burn events on HDD and than burn CD or DVD for management, business owners, police officers, detectives or judges serving as evidence of an event.
Scaffolding Security CCTV Systems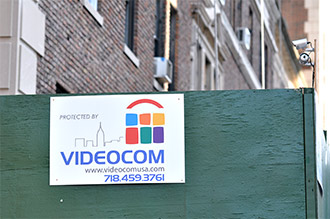 Videocom provides a scaffolding security CCTV system package suitable for any scaffolding in New York. The package consists of 2 security cameras ( expandable to 4 or more) for outdoor with infra red vision for night time - a DVR 4 Channels 500GB Hard Disk Drive Capacity with Motion Detection feature that will turn on an amber strobe when motion is detected. This system will record the motion detected in the hard disk drive for further reviews. This system can be an excellent deterrent for any burglary, theft and vandalism.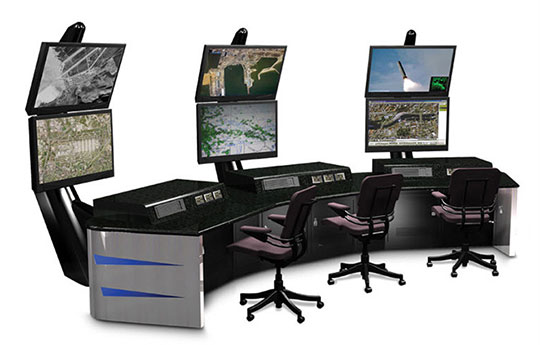 Videocom can provide, assemble and install any type and size of console for any type of video security application.Videocom is a security company in Queens, New York City specializing in installation of CCTV systems and installation of security systems. We install surveillance cameras, install CCTV systems in Queens, Brooklyn and Bronx, as well as in Manhattan, NYC.
Our NYC CCTV System installations are of the heighest quality in Queens and Brooklyn, Bronx and Manhattan. The CCTV System installation in NY and NYC, Queens or Flushing provide our customers with digital video recorders 16, 9, 8 and 4 channels.